Artist Profiles > Ed Sheeran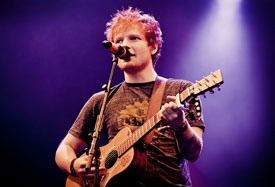 He innocently broke onto our TV screens in 2011 after performing relentlessly around the UK during his teen years, with the legendary song "The A Team". After independently releasing his own first EP, he was signed to Asylum Records to release his first album "+" which went quintuple platinum in the UK and led to him winning several awards which included Best British Male, Solo Artist and Breakthrough Artist of the Year in 2011.
His personal life has also led to inspiration for his second album, "X". He became close friends with fellow pop star Taylor Swift, who is, incidentally, Harry Styles' (Ed's friend) ex. This led to a track, as well as a song released, regarding Ellie Goulding, who cheated on him with 1D's Niall Horan. Hell, that's confusing! Regardless, he is the UK's hottest male property right now, so expect more from Ed for years to come!
Discography
+ (2011) - A huge debut album that gets number ones and top tens across the world, including the US of A!
X (2014) - Number 1 in over 10 countries, with co production from Pharrell Williams!
Biggest Hits
The A Team (2011)
Lego House (2011)
Give Me Love (2012)
Sing (2013)
Don't (2014)
The Man (2014)
One (2014)
5 Things You Didn't Know About Ed Sheeran
He gave Harry Styles a tattoo of a padlock
Ed clearly loves a Nando's, he even has a Nando's black card!
It may not be obvious, but he has over 100 tattoos
Whilst performing in LA, he was spotted by actor and musician Jamie Foxx who gave him use of his recording studio - nice!
He is quite the co-writer, and wrote Moments from 1D's first album
If you fancy downloading some of his music, you can use the links below to buy individual tracks from just 5 &cents; each, or full albums for around $1. Some of the sites even give you a discount when you purchase the entire album, so shop around!