Artist Profiles > One Direction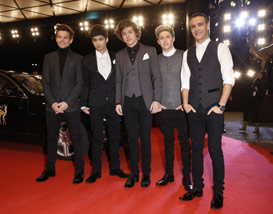 One Direction are without doubt the biggest boy band on the planet right now, and probably the biggest of all time, already. Why? Rumour has it that the boys make £45m, each year, and their popularity has without doubt spread to all corners of the globe. Pretty staggering considering they didn't even win the talent show (The X Factor) that formed the platform to turn them into the hot property they are today.
However, musical mogul Simon Cowell saw an opportunity in the English-Irish pop boy band which comprises of modern day heart throbs Zayn Malik, Niall Horan, Liam Payne, Louis Tomlinson and Harry Styles... and he sure as hell made it pay off.
Discography
Up All Night(2011) - Reached number one in 11 countries, but not the UK.
Take Me Home (2012) - Reached number one in 17 countries, including the UK.
Midnight Memories (2013) - Reached number one in 20 countries.
Four (2014) - Their fourth studio album released on 17th November 2014.
One Direction's Biggest Hits
What Makes You Beautiful (2011)
Little Things (2012)
One Way or Another (2013)
Best Song Ever (2013)
Story of My Life (2013)
Steal My Girl (2014)
5 Things You Didn't Know About One Direction
Harry Styles is extremely caring. When he eats a Twix chocolate bar, he bites both of the fingers equally to make sure neither of them get lonely. That takes caring to another level - awww.
Louis appeared on TV many times before the X Factor, including an appearance on "Fat Friends".
Louis is a massive soccer fan and attempted to buy his beloved League One football club, Doncaster Rovers. Unfortunately, the deal never came to fruition.
One Direction's 2011/2012 UK tour sold out in just 12 minutes when tickets went on sale.
"Up All Night" was recorded in three locations - Sweden, Los Angeles and London.
So, if you are a massive 1D fan (or "Directioner" as they are called), or just can't get one of their catchy tunes out of your head, you may like to know that it's possible to download all their hits for less than the larger online music stores.