Artist Profiles > Rihanna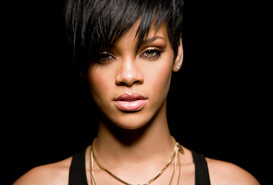 Rihanna is an international superstar who rose to fame after her first album was released way back in 2005, with one of the most successful single hits of all time and the song we couldn't get out of our heads, "Umbrella". Since then, she has gone on to produce album after album, and is still only 26.
She has also been in the spotlight as a celebrity after a long and controversial relationship with fellow R&B pop star, Chris Brown. In 2009, they broke the headlines after Brown assaulted Rihanna before an awards show, which then led to convictions. Since then, she has taken the number one spot in pretty much every country in the world and even turned to acting, appearing in movies such as Battleship and This Is the End.
Discography
Music of the Sun (2005) - No number one for the first album - over half a million sales worldwide.
A Girl like Me (2006) - This album peaked at #5 in the UK and States
A Good Girl Gone Bad (2007) - 3 million sales in Europe and 2.8 million in USA, featuring single "Umbrella"
Rated R (2009) - This darker album sold over 2 million sales worldwide
Loud (2010) - #1 in 10 countries
Talk That Talk (2011) - Another year, another album, nearly in excess of 3 million sales
Unapologetic (2012) - This album featured hit singles "Diamonds" and "Stay"
Rihanna's Biggest Hits
Unfaithful (2006)
Umbrella (2007)
Disturbia (2008)
Rude Boy (2009)
Only Girl (2010)
What's My Name (2010)
We Found Love (2011)
Diamonds (2012)
5 Things You Didn't Know About Rihanna
Her full name is Robyn Rihanna Fenty
Her song "Unfaithful" is based on a relationship she had when she was 14 years old - ermm...
In 2008, her native home Barbados created a national holiday in her honor!
She claims to stick to only local fruits and water to stay healthy
After being assaulted by ex-boyfriend Chris Brown, she didn't mutter a word until NINE months after!
If you are looking to download Rihanna's music but don't want to pay the prices of the most well-known online music retailers, check out the sites below!